2023 SCWLA USSCt Admissions Trip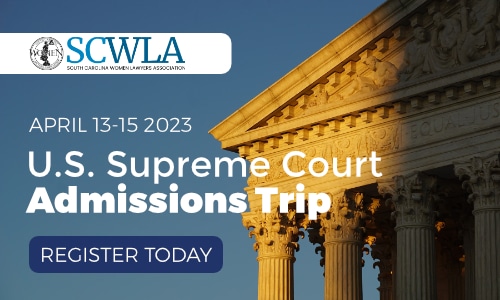 The 2023 Supreme Court of the United States (SCOTUS) group admissions ceremony for the South Carolina Women Lawyers' Association will take place on Friday, April 14. A member of South Carolina's judiciary will join us and move in open court for the admission of our group to the Court's Bar. We have arranged for up to 50 of its members to have this once in a lifetime opportunity.
How to Participate
To participate, please complete the group event application on this page. That application and $100 SCWLA Administrative Fee (covers administrative costs, reception on Thursday night, and, if catering is resumed at the Court, a private breakfast at the Supreme Court) are different from and in addition to the Court's Application for Admission to Practice fee of $200. The SCWLA Event Application and SCWLA event fee are due by January 13, 2023. The SCOTUS's Admission Application and the $200 application fee must be actually received by SCWLA no later than Friday, February 3. Applications will be accepted in the order in which they are received.