Latest News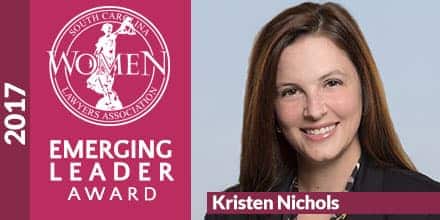 2017 Emerging Leader Award
What is Resilience Video Series
Thanks to Our 2017 Sponsors
Compuscripts, Inc.
Fisher & Phillips LLP
Gaffney, Lewis & Edwards, LLC
Haynsworth Sinkler Boyd, P.A.
Jolley Law Group, LLC
McNair Law Firm
Nexsen Pruet, LLC
Ogletree, Deakins, Nash, Smoak & Stewart, P.C.
Parker Poe
Rosen Hagood
The Honorable Carmen T. Mullen
Turner Padget

Welcome to SCWLA
Enhancing the
status

,

influence

and

effectiveness

of women lawyers in the State of South Carolina.
SCWLA was founded through the sheer willpower and determination of countless women who devoted their time and energy to ensure that practicing law is now easier for women lawyers than it was in years past.
Today SCWLA has over 900 members and an active 25-member Board of Directors. The organization emphasizes the opportunity to meet and help other women by sponsoring CLE's, monthly regional lunches, and mentoring programs.